Shawn has educated companies through his digital marketing agency, Thinkprofits.com, on digital marketing strategies, before the term was coined. He brings over 25 years of digital marketing experience and over 35 years of hands on business experience to Mujo.
Vice President Sales and Marketing, Author 
Alex is fluent in both English and French. He brings 16 years of experience in technology and operations management as well as a business degree. He strives to find new ways to deliver Mujo's content digitally, currently with a dedicated focus on our built in projects experience, and reducing our carbon footprint.
Curriculum Developer, Author
David is a true writer at heart. He brings more than six years of experience working in academia, where he's taught classes, run workshops, and created teaching materials with a focus on helping students develop practical skills and critical understanding. He prides himself on ensuring that our content can equally serve students to help them advance their education or take their career paths to the real world with success.
Curriculum Sales Executive
Nick brings more than fifteen years of experience providing valuable solutions to our Higher Education Division. He is a passionate speaker and people person and holds a bachelor's degree. Excited about the value Mujo unlocks for College Business Owners, Directors, Faculty and Teachers, Nick looks forward to connecting and discussing how Mujo can help your higher education business excel in its digital marketing offerings.
Curriculum Sales Executive, Contributing Editor
As a former K-12 teacher and administrator, Lexi brings a unique perspective and expertise to Mujo Learning Systems High School Division. With a strong educational background and Masters of Education, her knowledge in instructional design and learning principles are invaluable in shaping our High School content and teacher resources.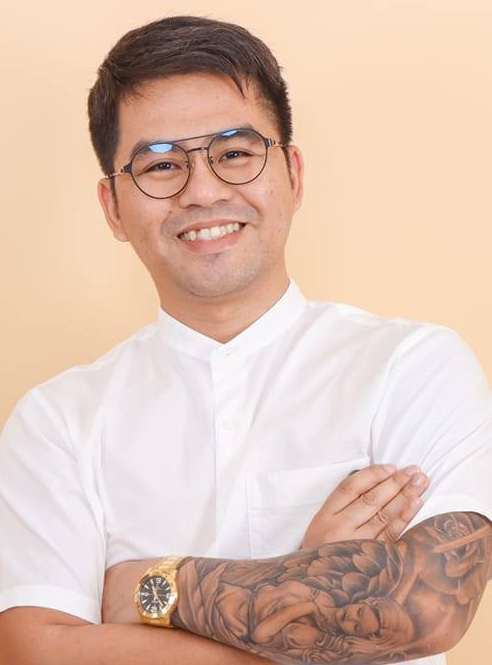 With over a decade of industry experience, Arvin brings a wealth of expertise in editorial design to the table with a passion in creating visually stunning and engaging publications that captivate readers and convey your message effectively. Arvin is fluent in English and Tagalog.
Adam brought his 30 years of product development, business planning, creative and editing skills to Mujo. He was instrumental in the textbook, content development, interactive and platform development.
Contributing Author, Senior Editor
Rebecca Saloustros is an experienced writer, editor, and teacher. She has co-authored and edited more than a dozen textbooks. She is also a certified high school and post-secondary educator who has taught courses in English, business, test preparation, and more.
Author, Curriculum Writer, Senior Editor
Emma Hatfield has been submersed in the world of education, curriculum design and textbook creation for over 20 years. She specializes in the needs and learning styles of adult learners, particularly for courses where skills development is vital.
Contributing Editors / Developers
Mary is experienced in supporting business operations and has exceled in customer service, project management and human resources. She is dedicated in ensuring clients' needs are met and our content quality control it at the highest level. Her mission is to be a key player in advancing students' careers and having this play a role in our economic growth.
Brittni is an experienced leader in the digital marketing space. As a VP and leader of a prominent agency, she brings over 8 years experience of working in the marketing and advertising industry. Brittni is highly skilled in all areas of digital marketing.
Tim brings more than 20 years of digital marketing experience specializing in seo, web development and all digital media, including strategy and content across all channels.
Contributing Editor, Developer
Nathan Kondra brings more than 20 years of Programming, 12 years of Technical Web Services Management and 12 years of Web Production and Search Engine Optimization skills to the mujo projects.
Contributing Editor, Developer
Lisa brings 20 years of senior writing, editing and product development skills to our content development, interactive and platform development vetting.
Contributing Editors / Developers
For over 6 years David has worked in digital marketing and advertising space as a Digital Marketing Specialist and SEO/PPC Expert.
Babak has over 6 years' experience in Digital Marketing, SEO, Web Analytics, CRO, CPC advertising, Social Media Marketing and Content Marketing.
Rose brings more than 8 years' experience as a Master of Arts - MA in english literature. She is a senior writer and editor in the digital marketing space and is skilled in all areas of writing for the web content development.
Ian is a senior web developer with many programming language skills. He is dedicated with his focus on the WordPress platform and bring over 8 years of experience to our content vetting on strategic web design.
Contributing Editors / Developers
Clarissa runs operations and does project management at a prominent digital agency and brings the details of projects, systems and processes to our content. A stickler for detail and creative eye to our formatting as well.
Cara is a web designer & UI/UX strategist at a leading digital marketing agency. She also has many years of experience in the social media creation world. In her free time, she can be found experimenting through photography, videography and blogging.
Aleida is a social media and email marketer with 3 years experience under her belt. She's passionate about building relationships between brands and their customers and loves creating engaging content that facilitates this. Outside of work you'll find her exploring new places, practicing yoga and watching Marvel movies.